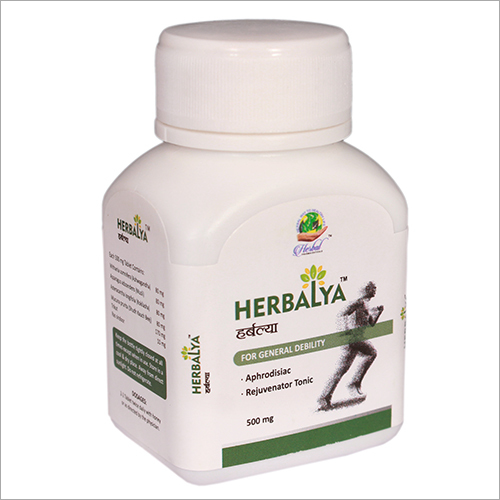 Product Specifications
Dry Place

Tablets

Herbal Medicine

Suitable For All
Trade Information
Cash in Advance (CID)

20 Bottle Per Month

4-6 Days

Yes

Contact us for information regarding our sample policy

Plastic Bottle

All India
Product Description
ACTIONS
General debility
Aphrodisiac
Rejuvenator tonic
Withania somnifera (Ashwagandha)
In today's herbal medicine the herb is categorized as an adaptogen and it used to treat fatigue, nervous exhaustion and to enhance memory. The herb also has a reputation as an aphrodisiac both for men and women and is believed to protect against infertility in men.
Asparagus adscendens (Musli)
Body rejuvenator and a powerful Aphrodisiac, strengthens the body, increases sperm count.
Mucuna prurita (Shudh Kauch Beej)
Cowhage has been used in Ayurvedic medicine to elevate sperm count and regularize ovulation in women. The herb is also helpful in normalizing nerve cell functions.
Supports a healthy central & peripheral nervous system
Supports the body's ability to handle stress
Is a natural source of levodopa (L-dopa)
Supports physical balance & posture
Promotes healthy motor skills & coordination
Improves energy & endurance
Supports the intellect
Bolsters libido
Revitalizes both the male & female reproductive systems
Enriches the performance of the nervous system. It is considered an effective nervine tonic The herb is a prophylactic against oligospermia (low sperm count) and is useful in increasing sperm count and regularizing ovulation in women.
Trikut
Trikut is a mixture of three spices in equal proportions 1) Black pepper – Piper nigrum, 2) Long pepper fruit – Piper longum, 3) Ginger - Zingiber officinalis. Trikut is hot in potency , stimulative in nature, good for liver, spleen and pancreas and also stimulates stomach to produce enzymes hence it helps in digestion. It is also good for respiratory system.
Ras Sindoor
Benefits:
It is used to boost immune system, to improve strength, in cardiac diseases, colicky abdominal pain, urinary tract related diseases, fistula in ano, inflammatory conditions, tuberculosis, chronic respiratory conditions, asthma, anemia, obesity, non-healing wounds, and digestive problems.
It is used as general co prescription to improve immunity.
Effect on Tridosha- Balances Vata, Pitta and Kapha.
INDICATIONS
General debility
COMPOSITION
Withania somnifera Ashwagandha - 80 mg
Asparagus adscendens Musli - 80 mg
Asteracantha longifolia Kokilaksha - 80 mg
Mucuna prurita Shudh Kauch Beej - 80 mg
Trikut - 170 mg
Ras Sindoor – 10 mg
DOSAGES
2-2 tablets twice daily with honey or as directed by your physician
SIDE EFFECTS
It is not known to have any side effects if taken as per the prescribed dosage.
100% vegetarian.
Get in touch with us